Business Cards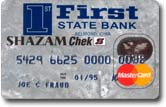 SHAZAMChek
The First State Bank SHAZAMChek card is a card that can be used at any location that accepts MasterCard debit cards. The SHAZAMChek card is as easy to use as a credit card, but it works like a check! The transaction is transmitted to the bank and the amount is deducted from your checking account. You may use the SHAZAMChek card to purchase goods and services as well as receiving cash at any ATM location.
Why should you have a SHAZAMChek?
Convenience - check writing is reduced & identification and check approval eliminated.
Payment Flexiblity
Safety - no need to carry lots of cash or your checkbook.
Easy Record Keeping - you receive a receipt for the transaction & the transaction is shown on your checking account statement.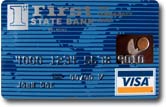 COMMUNITY CARD
The First State Bank Community Card is a credit card accepted wherever MasterCard or Visa is taken.
First State Bank has pledged to donate a percentage of each dollar charged on your credit card to community betterment projects.
By using your Community Card you not only have the convenience of a credit card, you also help our community.
---